The Seven Wonders Silent Film Festival, was recently held in the city of Geelong. 30 silent films were selected, each under seven minutes long. From art films, animation, drama, comedy and documentaries all created by aspiring and professional filmmakers, from across Australia and as far away as New York and Puerto Rico.
Needless to say, our short film, Shed Bot was one of the films selected.
And we are proud to say, took out the Peoples Choice Award.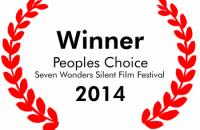 Thank all.