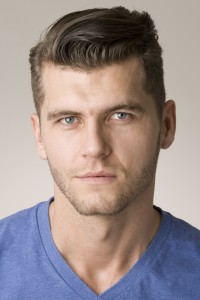 Actor / Director
Brought up on the Gold Coast, Byron landed a 5 month 'extras' role on a US war film in 2002. From then his passion for film & TV grew and hasn't stopped since.
Over these past few years he has begun to use his skills and knowledge towards more meaningful and real projects within the industry, having co- written & Directed a music video for a cancer sufferer and an awareness dvd for The Salvation Army, with the collaboration of Sandra Sully (TEN) and Rotary Club of Queensland, in order to raise funds for a Women's Rehabilitation Centre in Brisbane.
Byron's list of credits range from TV Series, Feature Films, Commercials and Documentaries to Short Films, Music Video's and Awareness DVD's.
After making the move to Melbourne in 2012, he met with Tony Hooper (writer/producer) and jumped onboard to Direct the soon to be made short film, Under The Bed. This films story will be revolve around domestic violence and how it affects children.
Byron's most recent credits include:
Doctor Blake Mysteries — ABC TV (2013) Camp — NBC TV (2013) House Husbands — NINE TV (2013) Forbidden Ground — Lionsgate FILM (2012) The Railway Man – Lionsgate FILM (2012)
IMDB Link: www.imdb.me/byronjbrochmann