Thanks to all of you for joining us on this first stage of the crowdfunding campaign. Each of you have breathed a bit of life into this endeavour, which is very much appreciated.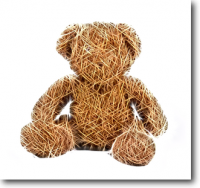 It all goes a long way in telling the story of Under the Bed on the big screen.
Some people have asked about the bear, and what it means. Well its a symbol. I call him "Hidden". A teddy bear is normally a source for comfort, but this poor bear has no face, forgotten, hidden, taken away. It is to symbol of the loss of innocence.
A taste of tragedy. A way to convey emotion in a moment.
The crowdfunding is rolling nicely, but there is a long way to go. As a part of that we are going to be sending out shout outs very soon too, on instagram and facebook.
In addition to these updates, Facebook will highlight the basic progress of the project (at https://www.facebook.com/unbed)
Thanks again for your pledge, and feel free to shout out what we want to do.
Tony