Back in the early part of 2014, we shot some footage for a silent film. It was for a competition in Geelong, and we had fun. Then I read the rules. It had to be G rated.
And we were certainly PG.
To quote a phrase "D'oh". So we made Shedbot, which went on to win the Peoples Choice Award.
And  The Troll was put on hold.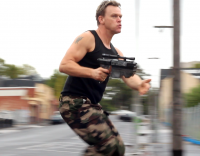 But not for long. See it was too cool not to put on the shelf forever.
"The Troll" is at its heart a celebration of b-films of yesteryear, a story about the monster of the day. We though a different take on Trolls would certainly fit this era of the internet too.
We also want our story to tell a message, but not beat you over the head with it, as its a dumb, fun silent film. As you sit back and watch it the first time, you will more than likely miss it. But when aware at what to look for, what is sometimes said, isn't the true meaning of what is spoken.
Quite some time went into designing the Troll, including a back story, most of which is not even on film. We really wanted our monster of the day to come to life, in as b-grade a way as possible.